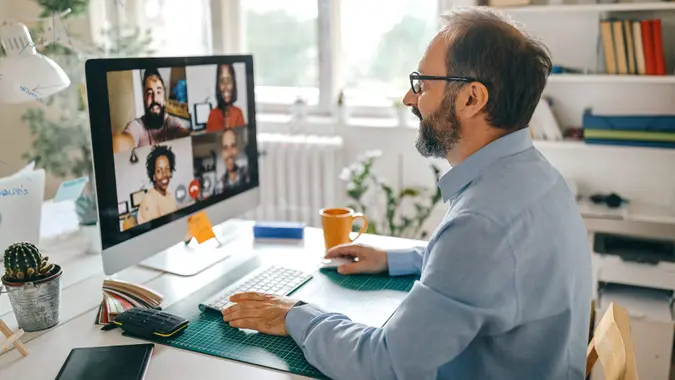 mixetto / Getty Images
What's your preferred work situation? For half of Americans, it's working from home. GOBankingRates surveyed 1,028 Americans and asked what they preferred their work situation to look like in 2023. Fifty percent, or half, of respondents said they want to work from home or remotely. Only 18% of respondents said they were able to work from home or remotely (not hybrid) in 2022, marking a 32 percentage point increase in those wanting to change their preferred work environment.
Explore: GOBankingRates' Best Credit Cards for 2023
And More: 11 Grocery Items To Buy at Dollar Tree
Remote work, born largely out of necessity during the COVID-19 pandemic, is here to stay. Many companies now offer remote work opportunities, but candidates face fierce competition in finding and getting these jobs as well as making sure they find a remote role where they're a fit. If your goal is to work remotely next year, here's what you can start doing now to land your dream job.
Figure Out Which Type of Remote Job You Want
Before you start any sort of job search, it is important to understand which remote job is best for you and your lifestyle.
Someone who is a digital nomad may seek a remote role that allows them to work from anywhere in the world. Others may want to work mostly remotely but live in the same city as the office or company headquarters in the event they need to go into the workplace. Consider your needs, and the needs of your specific lifestyle, to determine if you want to go fully remote or would prefer a more hybrid model instead.
Take Our Poll: Do You Think Student Loan Debt Should Be Forgiven?
Utilize Relevant Keywords in Your Resume and Cover Letter
Many companies now use applicant tracking and recruitment software to vet candidates. If you apply for a remote position, but do not use appropriate keywords in your application materials, chances are good you might be passed over in favor of someone else who does utilize these terms.
Utilize keywords like "remote" or "hybrid" throughout your resume and cover letter to better emphasize you're looking for this job type. You can also use these words in regards to your remote work experience and any tasks or responsibilities you have been able to successfully complete while remote. Highlight any achievements or initiatives you were able to successfully spearhead while working remotely. This better demonstrates your commitment as a team player and delivering ROI-positive results within your department and overall industry.
Search For Remote Roles
As you start to look for open positions, continue adding the words "remote" or "hybrid" throughout your search. This makes it easier for applicants to find job listings tailored specifically for remote-only positions.
Some job boards, like LinkedIn, offer filters that allow you to search for on-site, remote or hybrid jobs. If the job platform you're using offers job alerts, sign up to find out when new remote positions are posted on the site.
Understand Which Industries Are Currently Hiring Remote Employees
If you're struggling to find a remote role, it may be because you're not seeking out positions in the appropriate industry.
The LinkedIn Learning Blog recommends reviewing US industries that have the highest amount of remote jobs and where applicants are likely to see the most openings. As of 2022 and according to the LinkedIn News Workforce Report, the top five industries with the largest share of remote jobs are technology, information and media; education; administrative and support services; professional services; and financial services.
Learn Everything You Can About the Company You Want To Work Remotely For
During the interview process, applicants will be asked why they want to work for the company where they applied for a job. The candidate's answer should not be because the position is remote.
Set aside some time to learn about the business. Visit its website to learn about the company and its offerings, its leadership and overall culture especially as it pertains to remote employees. As you learn more about the company and its policies and practices, you'll be able to ask specific questions during the interview such as how remote team members may grow within the organization, expectations for remote workers and how the business engages all of its employees .
Try Connecting With a Specialized Recruiter
Those struggling to find their dream remote job don't have to go it alone.
Employment agency Robert Half recommends connecting and working with specialized recruiters. These recruiters, as written on the Robert Half blog, can help you identify the right opportunity for you and your lifestyle. They also often know about new job postings before they're officially advertised, giving you the advantage of being one of the first to apply for the opening and potentially landing the role.
More From GOBankingRates
.