In housing, the two most basic factors to consider are location and employment. A longstanding rule of thumb is to "follow the jobs" in assessing housing markets with strong employment growth and using this information to find opportunities.
The labor market has been on a roll since bottoming out in April 2020. Companies across industries have been in growth mode trying to keep up with elevated levels of consumer demand. The unemployment rate is back in the 3% range following 22 consecutive months of job growth.
The housing market has been a beneficiary of the strong economy and labor market. Many of those employed have saved money over the past few years and used those funds towards a down payment on a home.
The housing market is shifting now, however, in response to higher borrowing costs, expensive home prices, and a slowing economy. Zonda foresees the struggles in the housing market to persist in the near term despite a currently healthy labor market. We anticipate the housing market to remain softer in 2023 and unemployment trends to rise.
While these risks persist, we also think there's value in tracking movements in the labor market over the past 10-plus years to make sense of longer-term market resilience. To evaluate how metro areas have performed, we looked at:
Total employment growth
High-income employment growth (these sectors are Financial Activities, Information, and Professional and Business Services as defined by the Bureau of Labor Statistics)
The share of high-income jobs relative to total metro employment
For our analysis, we considered only metro areas with populations of 750,000 and up. We also used 2021 since it captures the most recent full year available. The table below shows the results of the three categories: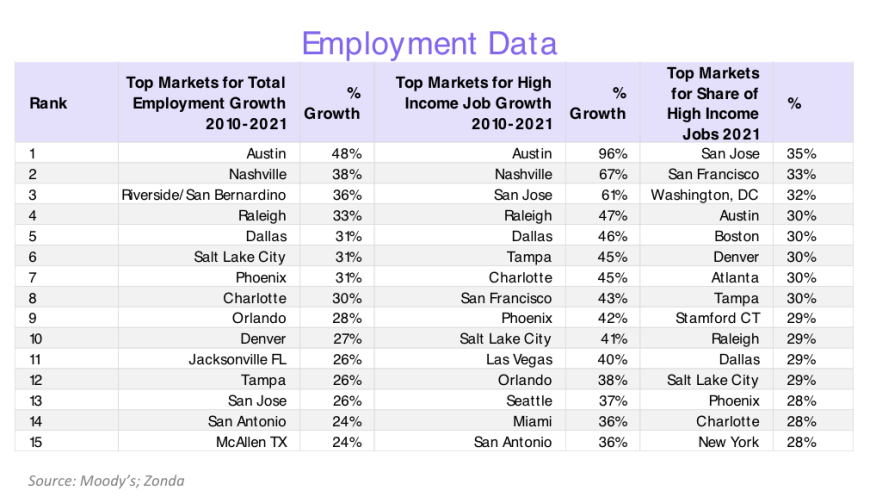 High-Level Takeaways
In terms of total employment growth from 2010-2021, Austin, Texas; Nashville, Tennessee; and Riverside/San Bernardino in California were the top three markets.
Looking at high-income job growth, the same two markets topped the list: Austin and Nashville. Austin posted a 96% increase from 2010 to 2021, followed by Nashville with a 67% increase in high-income sectors, and San Jose, California, with an expansion of 61%.
In terms of high-income jobs as a share of total employment in 2021, San Jose led with 35%. San Francisco had 33% of jobs in high-income sectors followed by Washington, DC, with 32%.
We also thought it was important to look at the top three job growth metros from 2019-2021 to give a more short-term, pandemic-influenced analysis. Unsurprisingly, Austin came in first again, followed by Raleigh, North Carolina, and Salt Lake City.
In terms of 2019-2021 high-income job growth, Austin led yet again with 14% growth, followed by McAllen, Texas (10%), and Raleigh (6%).
Unique Trends
Tampa, Florida, stood out as a market that lands at No. 12 for growth in total employment but No. 6 for high-income job growth. Many of the high-income employers can be found in the tech sector, financial services, and health care. Furthermore, the local economy has done well as a result of the changes brought on by the pandemic. Tampa was recently ranked as the third best metro area for remote work with relative affordability and a warm climate.
Riverside/San Bernardino's trends stand in direct contrast to the outperformance of Tampa in the high-income sector relative to total growth. Riverside lands in the third spot for total employment growth from 2010 to 2021. For high-income growth, however, Riverside ranks No. 24. The employment growth in Riverside is concentrated in the more moderate-income sectors of transportation, warehousing, and administrative services.
San Jose and San Francisco have been traditional tech-sector hubs seeing solid growth in high-income jobs over the years. These markets, plus any of those elsewhere in the country driven by tech (eg, Austin and Salt Lake City), are being put to the test right now, though, for a couple of reasons. First, the tech sector has been one of the fastest to slow throughout 2022 with increasingly common layoff announcements, lower levels of capex spending, and shaky stock prices. Furthermore, the employment stats in places like San Jose may be exaggerating the actual local employment growth due to work from home; typically, jobs are coded where the company is located versus where the employee is living.
Austin had the most total employment growth from 2010-2021 and from 2019-2021. Austin also had the most high-income job growth during these two time periods. In addition, the market ranked No. 4 in total share of high-income jobs compared with total employment. Austin has consistently been ranked as one of the best, if not the best, metro areas in the US for both job growth and housing. The tech sector has been a big contributor to Austin's success with relocations and expansions from companies like Oracle, Meta, Apple, Tesla, and Samsung. In fact, data from the Austin Chamber of Commerce highlights that jobs from the tech industry represent 16.7% of the market in Austin compared with 9.2% nationally.
Despite the fantastic employment trends, Austin's housing market was one of the fastest to slow in 2022. The market is in what we are calling a growth paradox, where the labor market is strong, but the housing market is faltering. In fact, many of the markets that have seen the most job growth have also become some of the markets to slow the fastest this year as demand for housing outpaced supply and home prices pushed beyond the limits of what is income-supported in many markets.
Case Study: Austin
We wanted to highlight this trend a bit more closely by looking specifically at Austin. Austin could be called the "worst-kept secret" of national housing markets. Bryan Glasshagel, Zonda's senior vice president and regional expert on Austin, notes that the capital city was one of the first markets coming out of the COVID-era to eclipse total levels of housing starts from the mid-2000s, and levels have only grown since .
The growth was justified by the changes in population. Austin has continuously been a top market for domestic net migration, with more people moving in than moving out. In fact, much of the growth in the market was from relocators competing with investors and locals for the growing, but still limited, housing inventory.
According to Redfin, the top three origin metros for people moving to Austin were the Bay Area, Los Angeles, and Seattle. We can look at prices in these metros compared to Austin pre-pandemic to grasp the incentive to relocate. In Austin, the 2020 average new-home median closing price was $334,267. For comparison, San Francisco's was $936,400, Los Angeles/Orange County's was $825,308, and Seattle's was $618,308. For workers looking to relocate during the pandemic and continue to work remotely, Austin had an obvious allure.
This pushed up prices in Austin significantly. The growth was generally supported until this year, when three notable trends shifted the market: the relocation boom slowed, mortgage rates doubled, and the economy started to show cracks, especially in tech. Zonda's New Home Market Update showed that Austin has seen sales decline 52.3% year over year as of October 2022. The slowdown in the market could be further exacerbated by a recession and subsequent job losses in 2023.
To return affordability to more attainable levels and help get the market back on track, Glasshagel highlights that a combination of price decreases, lower interest rates, cheaper land, and lower inflation will likely be needed to restore balance to Austin's housing market, not to mention the return of consumer confidence. 2023 is shaping up to be a challenging year as these issues persist.
When you look at the employment trends, they won't save the market from the near-term slowdown and volatility. However, Glasshagel states that "Austin's long-term trends remain strong due to the level of job growth." Companies that relocated to the market didn't do so for just one cycle—the companies will be there on the other side of the market slowdown, and our team at Zonda is working through what all of this means for market resilience and longer-term housing demand.
.