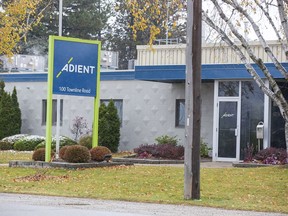 Article content
An auto parts company's decision to suddenly close its plant in Tillsonburg — putting nearly 200 people out of work — was a "calculated betrayal," says the head of a union representing the workers.
Article content
Adient is a US-based company that manufactures automotive seating worldwide. It abruptly closed its longtime Tillsonburg plant on Nov. 15 without warning, said Lorraine Sinclair, president of Unifor Local 1859.
"One hundred and ninety-two unionized and hourly members have lost their jobs. Thirty-eight management positions are gone. The facility is completely closed down," she said.
The plant, which manufactures polyurethane seating foam for the auto industry, has operated in the town of 18,000 for more than 50 years. Employees were informed at a meeting that same morning that the facility would close immediately.
"It was absolutely gutting and shocking to every single person there," Sinclair said, noting that Adient was recruiting and hiring people at the plant just four weeks ago.
Article content
"It was a real calculated betrayal on the part of the corporation," she said. "They literally spent months and millions of dollars to set it up so that they could blindside every one of us."
A spokesperson for Adient said the decision came after "evaluating our foam plant footprint," and that its operations would be moved to several different plants in the US
"Adient continuously re-evaluates our facilities footprint to ensure our operations are most efficient and meet the needs of our customers," Mary Kay Dodero said by email.
Still, Sinclair believes the company should've handled it differently.
"There was no reason to make this even harder than it needed to be. If they chose to move, they chose to move. They did not have to do it in such a calculated heartless way," she said.
Article content
Adient is giving its employees termination pay in lieu of the six-month notice they were required to give, per their contract, Sinclair said.
Conversations between the union and Adient management are ongoing, with a meeting involving the plant's management to be held Nov. 18 and another with company representatives on Dec. 5.
Unifor, Canada's largest union in the private sector, has repeatedly pushed for a range of measures to protect workers in the auto industry, the union said in a statement.
"We need a comprehensive plan that protects and invests in all workers across the auto supply chain," Naureen Rizvi, regional director for Unifor Ontario, said. "Electric vehicles need seating foam just as much as they need batteries. We can't afford to lose a single job in the fight for the future of our auto sector."
Sinclair said the local union is looking at ways to help those left without work before the holiday season.
"One blessing that we're looking at is that there are a lot of places hiring, so I'm hoping we'll have jobs sooner rather than later," she said.
Adient is a global automotive seating manufacturer with more than 203 plants across 30 countries, according to its website. According to one online estimate, it has more than 80,000 employees worldwide.
—
The Local Journalism Initiative is funded by the Government of Canada