The company had about 95,000 employees at the end of 2021 and its Canadian HQ is located in London.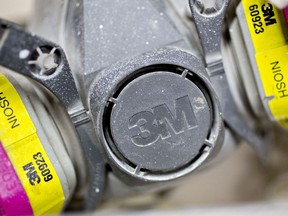 Article content
3M Co. said it plans to cut about 2,500 manufacturing jobs, citing persistent economic hurdles, and forecast profit for this year that fell short of Wall Street estimates. The stock tumbled by the most in almost 13 years.
Article content
The maker of Post-it notes, surgical supplies and touch-screen displays said Tuesday that it sees adjusted earnings for 2023 in a range of $8.50 to $9 per share, excluding special items. That's below the average analyst estimate. Organic sales could fall as much as 3%, the industrial and consumer-goods conglomerate said.
Article content
"We are not satisfied with our progress or performance," CEO Mike Roman said on a conference call with analysts. "We are taking a deeper look at everything we do."
3M Canada's headquarters are located on Tartan Drive along the eastern edge of London. It was not yet clear Tuesday how the job cuts might affect local workers.
"This just came down this morning. We don't have any specifics to share as to whether there will be an impact" at 3M Canada, said spokesperson Melissa Jurenas.
Article content
3M Canada has eight sites, including factories, across Canada with a total of more than 1,900 workers. There are more than 500 in London at 3M Canada's two sites, the office on Tartan Drive, just off Veterans Memorial Parkway, and the industrial plant on Oxford Street. The latter makes "adhesives and abrasives" including tape and sandpaper, Jurenas said.
Shares of the company pared a drop of as much as 16% — the biggest intraday drop since May of 2010 — falling 6.3% to $114.85 as of 10:38 am in New York.
The St. Paul, Minnesota-based company sees continued macroeconomic headwinds this year and described the planned job cuts as a needed move due to declining production volumes. 3M's glum guidance follows several disappointing quarters — and may be an ill omen for other industrial companies heading into 2023.
Article content
"As a bellwether for the sector, 3M's outlook of broad-based weakness across industrial and consumer markets could portend worsening conditions for other industries," Karen Ubelhart, an analyst at Bloomberg Intelligence, wrote in a research note following the earnings report.
3M's fourth-quarter adjusted earnings per share and the adjusted operating margin for the period also missed analysts' estimates. The company saw a sharp slowdown in segments such as consumer electronics and retail channels, and expects sluggish demand to continue in 2023.
Lackluster demand has added to ongoing inflationary pressures driving up 3M's cost of materials, labor and logistics. Roman said the company has taken aggressive action to curtail its manufacturing footprint in response, and imposed strict controls on hiring and discretionary spending.
The company, which had about 95,000 employees at the end of 2021, cut its full-year 2022 sales and profit outlook twice. It did so most recently in October, saying a strong US dollar and shaky demand was adding to pressure on margins from inflation and supply chain turmoil.
3M has battled with softening demand in key segments as well as mounting risks tied to litigation over allegedly defective combat ear plugs. It also faces liabilities over contamination caused by so-called forever chemicals, which the company plans to stop producing by the end of 2025.