'A day of education,' says the cemetery's marketing director, with events that include a reconciliation walk, tour and screenings of two short films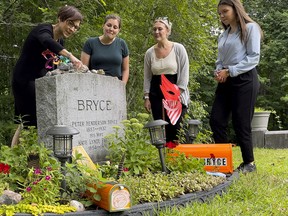 Article content
A reconciliation tour of Beechwood Cemetery, screenings of two short films, and a reconciling walking tour of downtown Ottawa are among the events planned for this year's National Day of Truth and Reconciliation on Sept. 30.
Article content
The First Nations Child and Family Caring Society and the Beechwood Cemetery Foundation made the announcement Friday at the grave of Dr. Peter Henderson Bryce, the onetime chief medical officer of the federal Departments of the Interior and Indian Affairs. This year marks the centenary of Bryce's whistleblowing attempts to improve conditions at residential schools.
In 1907, Bryce wrote a report on the abysmal conditions at Indian residential schools in western Canada. Among his damning findings were that in the 15 years that they existed, almost one-quarter of students who had attended Indian schools were known to be dead, while the death rate at one school, on the File Hills reserve in Saskatchewan, was 75 per cent. Tuberculosis, meanwhile, ran rampant.
Article content
The government largely buried Bryce's report and never published his recommendations, so in 1922, after his retirement, Bryce published the entire document himself, under the title The Story of a National Crime: Being a Record of the Health Conditions of the Indians of Canada from 1904 to 1921.
Bryce, says Caring Society executive director Cindy Blackstock, was a hero who reaffirmed her belief in the goodness of people.
"When we look at these horrible genocidal events, we hear the narrative all the time about how nobody back then knew any better. And Bryce disrupts that. He shows the stories of not only himself as a resistor, but he amplifies the voices of other resistors: First Nations, Métis and Inuit peoples, as well as other allies who, at the time, stood up and said, 'This is wrong. Children are dying. You could prevent it. Do something.' And they did everything in their power to put things right, and they got erased from history. So this is an opportunity to really elevate those people, because that's what we want our kids to grow up to be: people like Dr. Bryce."
Article content
The reconciliation tour at Beechwood planned for Sept. 30 features a number of significant personalities, for not only is Bryce buried there, but so, too, are Duncan Campbell Scott, Nicholas Flood Davin and Olive Patricia Dickason.
Dickason was a Métis historian and journalist, and a key figure in the study of Indigenous history. Davin is considered one of the architects of the Indian residential school system, following his 1879 Report on Industrial Schools for Indians and Half-Breedswhich advocated for the creation of the schools.
Scott, meanwhile, as head of the Department of Indian Affairs, believed that the chief role of residential schools was to speed up assimilation and an end to the "Indian problem."
Article content
The downtown walking tour will include stops at Parliament Hill and the Langevin building, but also at such sites as the James Hope & Sons building on Sparks Street, where Bryce had his report published (and where a plaque to that effect is expected to be erected this year), and St. Andrew's Presbyterian Church on Kent Street, where Bryce and Scott attended services at the same time.
"The tour takes people to key locations in downtown Ottawa and highlights Bryce's and Scott's opposing views," says Brittany Mathews, the Caring Society's reconciliation research co-ordinator. "It basically talks about what happened in these buildings when these two individuals were public servants and making very different decisions that had, and continue to have, huge impacts on the lives of First Nations, Métis and Inuit children and their families."
Article content
In the days leading up to Sept. 30, Beechwood Cemetery will also be playing The Story of the National Crime, a 45-minute CBC-radio play that imagines a discussion between Bryce and Scott. The play was broadcast once in the 1970s, and Beechwood has added visuals to accompany the radio play.
According to Beechwood's Nick McCarthy, the cemetery's foundation is dedicating Sept. 30 to education and is otherwise closing down other business, including funerals, for the day.
"Sept. 30 is only ever going to be a day of education," he says, "It's all about partnering with the right people to provide education so that people can understand."
"We really hope that people take this day as an opportunity to learn the truth part of reconciliation," adds Mathews, "so they can determine how to actually act reconciliation in substantive ways that will have a true impact in our communities, both Indigenous and non-Indigenous communities."