Article content
Days after losing its pet-rescue van and equipment to theft, the Toronto Humane Society has been flooded with more than $100,000 dollars in donations following an appeal for support.
Article content
"A lot of people are feeling quite inspired by the amount of public support and outreach that we've gotten," THS spokesperson Hannah Sotropa said Thursday. "There's definitely a general sense of hope right now in terms of how when this community really does come together – it's incredible what they're capable of."
Article content
The humane society is using a rental van temporarily until it can replace its lost vehicle.
The van is regularly used by THS as a life-saving tool to transport animals to and from the shelter, and to help regional animal shelters cope with any influx they experience.
The theft happened Monday when two men broke into the back door of their underground garage at their headquarters near Queen St. E. and River Sts.
Article content
THS released some surveillance video showing the moments before the van was driven out of the garage.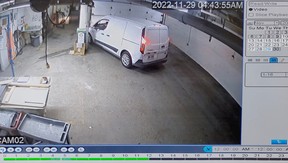 Two men, whose images were also released by THS, apparently entered the building using a pry bar at about 11:11 pm
The men remained in the underground garage collecting property for about five-and-a-half hours – until 4:44 am – before driving away.
They also broke into a locked room where the keys to the van were kept.
Other property stolen included a shop-vac, an industrial power washer and walkie-talkies.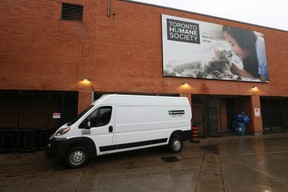 Toronto Police are investigating the theft.
Officers spent part of Tuesday at the building conducting their investigation.
"While it was a devastating event and there's still emotions that come up when we think of the anger that we all felt reviewing that (video) footage," said Sotropa, "the sense of hope still remains that there are kind, wonderful people out there."
This year, up until September, THS has organized 1,387 adoptions of small domestic pets, cats, and dogs.
The van sometimes plays a pivotal role in transporting rescued animals slated for adoption.
In the past few days, the organization said it has made improvements to building security.
Anyone wishing to support the Humane Society can do so at www.torontohumanesociety.com/breakin.
Twitter: @_ScottLaurie