Lawyers for the Nurrdalinji Native Title Aboriginal Corporation, which represents native title holders from across the Beetaloo Basin, have written to Northern Territory Chief Minister Natasha Fyles, asking her to reconsider the proposed legislation.
The chair of the corporation, Gudanji-Wambaya man Johnny Wilson, who lives at the Lightning Ridge outstation, said he was shocked the government might change the rules to allow gas companies to do large-scale mining on his Country without traditional owner consent.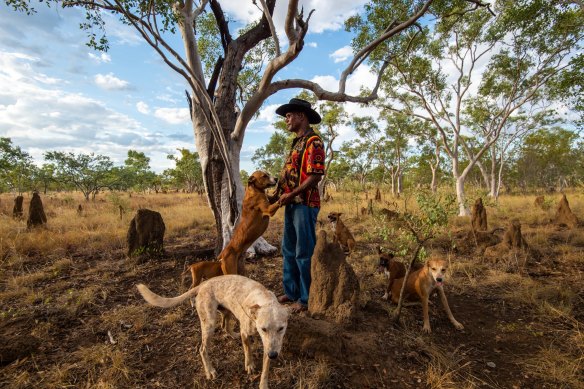 "Gas companies didn't explain what fracking is or the damage it can do to our water, sacred sites, plants and animals," Wilson said. "We now know there'll be four to five hundred wells and pipelines running across our country.
"These exploration agreements which were signed by our elders with very little information provided, are now set to become the hook, line and sinker for large-scale industrialization and production."
Loading
Environment and Aboriginal organizations, including the Environment Center NT and Original Power, have also written to the chief minister, saying that while the government claims the proposed legislation takes into consideration the findings of a recent scientific inquiry into hydraulic fracking in the territory (known as the Pepper Inquiry), it directly contradicts the inquiry's concerns about "exploration creep".
The inquiry found that shale gas development in the territory could result in about 100 million tons of emissions annually.
The inquiry also found that if all its 135 recommendations were implemented, "the challenges and risks associated with any onshore shale gas industry in the NT can be appropriately managed".
"The bill does not achieve the intended purpose of key Pepper Inquiry recommendations, and claims to the contrary are misleading to Territorians," the environmental groups told the chief minister. "Unless amended, this bill will not lead to the effective and transparent regulation of the onshore gas industry."
The gas industry says similar approaches are in place in other jurisdictions, and peak body the Australian Petroleum Production and Exploration Association has welcomed the change.
The Minister for Mining and Industry, Nicole Manison, said the bill does not override requirements under the Native Title Act, or the Aboriginal Land Rights Act, in relation to necessary agreements between traditional owners and an exploration permit holder.
Get to the heart of what's happening with climate change and the environment. Our fortnightly Environment newsletter brings you the news, the issues and the solutions. Sign up here.