A kindhearted plumber left a cancer-stricken man amazed and teary-eyed after he installed a free boiler a day after he called.
Born in Liverpool, United Kingdom, James Anderson, 55, is a fully qualified plumbing and heating engineer, who currently resides in Burnley, Lancashire.
In 2017, Anderson was called for a second opinion at a disabled, elderly gentleman's house who was almost conned by a heating company.
"[He] was nearly scammed out of £5,500 for work he did not need," Anderson told The Epoch Times. "The memory of him sitting there in his bed with a hoist is still fresh in my memory … so fragile and helpless."
Shocked on witnessing this and on learning about the low-quality life that many elderly, disabled, and vulnerable people had to lead due to poor heating and plumbing, Anderson established Depher (Disability and Elderly Plumbing and Heating Emergency Repair).
"I couldn't believe it and I made it my life mission to make sure I could help as many people as I could, whatever the cost," Anderson said, according to Daily Mail. "'If you've got disabilities, issues, sometimes these things can become too difficult to overcome and we want to make sure they're taken care of.'
Since the inception of the community initiative company, Anderson and his team have delivered a "life-saving service," to over one million people. Their service includes plumbing, heating, gas, electricity, and food, among other things.
Currently, the company works with 67 subcontractors across the country that assist with plumbing and heating emergencies.
According to Anderson, to cover the cost of labor and materials, the company receives over 80 percent of its funds through donations from the public and companies, and 20 percent from paid work.
The money helps with providing free services during the winter months and discounted services at other times.
Anderson believes that every customer has their own story and they are all treated with the same respect and dignity.
In December 2022, Anderson and his team received a call from Macmillan nurses and a doctor regarding a cancer-stricken patient named Robert Downs who needed help with a boiler.
Downs—battling cancer for the third time—had tried to get help with his broken boiler everywhere but couldn't find any. However, as soon as Depher got to know about Downs' need they were able to install a Glow-worm boiler for free.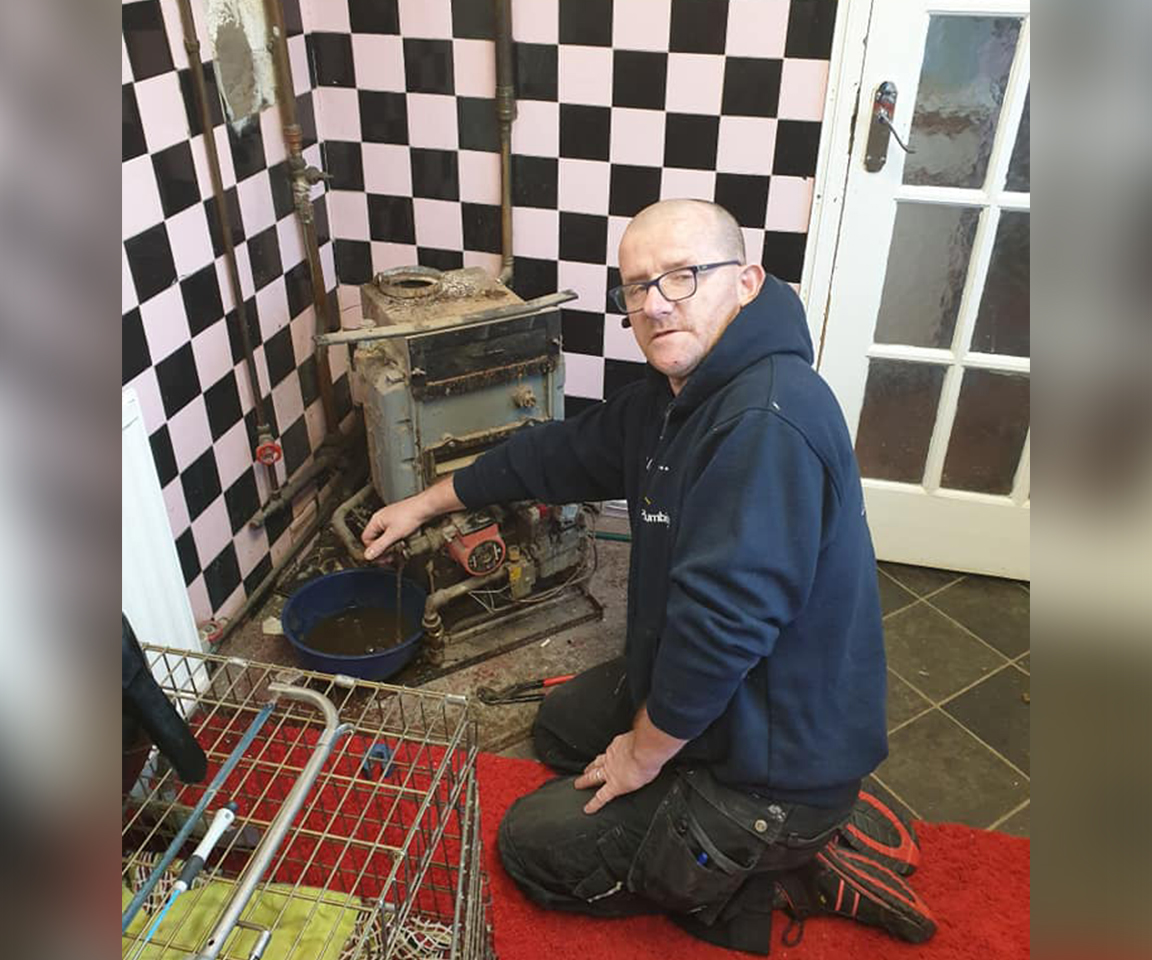 Anderson told The Epoch Times that as Downs had been battling cancer, they supported and fought with him every step of the way.
According to Anderson, Downs' reaction to receiving the boiler was "priceless." The elderly man was amazed by the gesture and teared up.
The plumber who has worked tirelessly over the last six years to help those in need told BBC Breakfast that he's been driven by a promise that he made to his baby son, William who died in 2013.
Anderson had pledged to his late son to become "the man that he would have grown up to have been."
"Every time we go to a job, every time we show people humanity, there's a little bit of William in there," Anderson said. "I really hope I've done him proud."
During the onset of the pandemic, Anderson helped deliver personal protective equipment and food to his community.
Recently, with the rise in the cost of living, Anderson and his team have been busier than ever. They have been dealing with people in distress who are tired of being told no.
Anderson told The Epoch Times that they are really humbled by all the people they can help.
"If you need us we are here, if you don't need us and someone else does, tell them about us," Anderson said.
Share your stories with us at [email protected], and continue to get your daily dose of inspiration by signing up for the Inspired newsletter at TheEpochTimes.com/newsletter
.