Article content
A local online business that started during the pandemic continues to grow and reach international customers.
Article content
Helfrich Collective, a clothing company based in Sherwood Park, has grown from a single collection of comfortable clothes to eight, and has donated hundreds to non-profits in the process.
"It started as an idea in my bedroom in the middle of the pandemic. I was home from school and didn't really have much going on and thought about what I could do to raise awareness on mental health," explained Brianne Helfrich, CEO and founder of Helfrich Collective. "Everyone was at home wearing sweatpants, so I decided to make my own and raise awareness on mental health and from there it started growing."
Helfrich was planning to do one collection of clothes and then be finished, but the brand became so popular, it is now a full-fledged business.
Article content
"We're still operating out of my house because we're an online brand. So far, we've had eight collections we've launched and we've actually had to restock one of the collections because it sold out," Helfrich said.
The company isn't only selling locally either, with Helfrich Collective getting orders from across the globe. The company donates 10 percent of each sale to different charities.
"Some of our collections donate to three different charities, some focus on one. When we first started we donated hoodies to Ronald McDonald House in Edmonton and the Winhouse Shelter," Helfrich said. "A lot of the collections have been inspired by the charities we work with for that collection."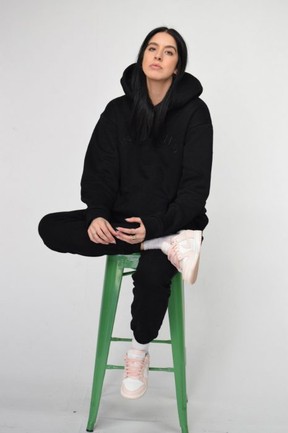 The local business owner said the company continues to grow and gain notoriety.
Article content
"It is doing really well and it is nice to see how much support people in Sherwood Park and Edmonton have for the brand. We did a pop-up a few weeks ago, and having people come and see the items was really cool," Helfrich said.
The clothing designer said her friends have even spotted people around town wearing her brand.
"My friend was at a Starbucks and saw someone wearing one of my hoodies and she told me about it," Helfrich said. "It is so crazy to see it on other people in real life."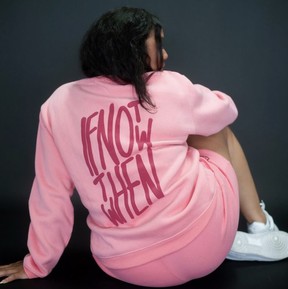 Helfrich, who is 25 years old, said the company is a female founded brand and her goal now is to continue to grow the business.
"My biggest goal is to make the Forbes 30 under 30 list. I just got invited to the Forbes Under 30 Summit in Detroit, and I got to experience that and meet a bunch of entrepreneurs under 30," Helfrich said.
Article content
Helfrich noted that donating to charities through every sale sets them apart from most other clothing companies.
"The quality of the items is great. I'm a very Type A person and I'm only going to put something out if it's something I love and would wear myself," she said. "Everyone who has bought the items has said the quality is unmatched and unlike any piece of clothing they've had before."
Helfrich said comfort is key when it comes to clothing.
Besides running the business, Helfrich is also a bioethics PhD candidate at the University of Alberta.
"People always ask how I balance being a full-time PhD candidate and running a business. I tell them I don't, but I am passionate about both of them, so I have to just do it," Helfrich said. "Luckily, a lot of this business can be run on my phone."
You can find the clothes online at helfrichcollective.com or find the company on Instagram @HelfrichCollective.
twitter.com/travisdosser