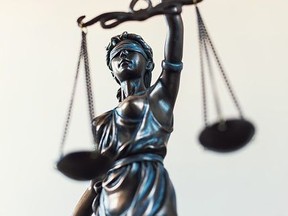 Article content
A controversial London lawyer is appealing his suspension by an oversight tribunal, saying Ontario's law society is biased against him and engages in "defamation and doxing."
Article content
The Law Society of Ontario calls him "a pseudo-intellectual, a racist and a misogynist with bizarre views without evidence or a trial," Oussama Hamza wrote in his appeal.
That view is one of the examples of bias that breaches the United Nations principles on the roles of lawyers, he said.
"The law society failed to meet its duties of fairness, candour, honor, honesty," his appeal concludes.
Hamza was suspended June 29 by the law society tribunal for not providing information for a Law Society of Ontario investigation that was prompted by complaints from two former clients.
Hamza is also the subject of a second law society investigation for several allegations, including making racist and sexist remarks on social media and in court documents and "hostile, inflammatory, inaccurate and discriminatory written statements in court documents and in related correspondence, and on his firm's website."
Article content
The appeal of the suspension is the latest twist in a bizarre tale that has seen Hamza sue a judge and insist he should not have to pay taxes to colonizer governments, call judges "your honor" or pay fees to the "racist" Law Society of Ontario.
The suspension involves an investigation that began in November after complaints from two former clients.
One complaint states Hamza may have misled the client, may have failed to follow client's instructions and may have breached client confidentiality, according to the June 28 ruling from the law society tribunal.
The second complaint says Hamza may have failed to provide legal services competently and may have engaged in discriminatory behavior, among other things, according to the June 28 ruling.
Article content
While investigating those complaints, counsel for the law society contacted Hamza five times between Dec. 1, 2021, and Feb. 4, 2022, seeking documents and submissions, the tribunal hearing was told.
Although Hamza responded, according to the June 28 ruling, those responses did not relate to the information requested.
Instead, Hamza replied the documents should come from his former clients, he would respond when there was evidence before him, his clients were using the law society as a "tool of harassment," the law society is biased and "the investigation lawyer is an accuser who pretends to investigate," according to the June 28 ruling.
Hamza accused the investigative counsel of bias, racism and Islamophobia.
Article content
There was no evidence of that, the tribunal ruled, but "it is obviously clear that the law society did not receive complete responses to the communications," the tribunal ruled.
Hamza's license was suspended until he provided full responses to investigating counsel.
The law society tribunal's appeal division will hear Hamza's appeal. The date for that hearing has yet to be set.
In his application to appeal, Hamza says, "The law society is the investigator, applicant, witness, tribunal and beneficiary of this proceeding at the cost and detriment of the appellant and his clients. This is a conflict of interest and gives rise to a reasonable apprehension of bias" under the UN principles for the role of lawyers.
Article content
"While the law society publishes the personal information of the appellant, it does not publish that of the complainants or details of their complaints, the grounds therefore and the appellant's response. This goes against the open court principle. . . It also constitutes defamation and doxing," his appeal says.
Hamza could not be reached for comment Tuesday. In July, calls to his office phone reached a voice message directing people to one of his websites, before saying goodbye and hanging up.
This week, one of his websites was inaccessible to the public, while a second no longer offered contact information. An emailed request for a response was not answered.
A hearing for the other case involving allegations of making improper remarks has not been set. The notice for that hearing outlines seven allegations about ongoing activities that began in 2020, including that Hamza:
Article content
Made "discriminatory, racist, sexist or offensive comments on social media, on his firm's website, in court documents and in related correspondence, which were directed at members of the public, the law society, complainants to the law society, members of the judiciary , other licensees and the Canadian justice system."
Attempted to obstruct a law society investigation by threatening to take legal action and "breached his duty to act with integrity, in particular his duty to practice law and discharge all of his responsibilities to his clients, courts, the public and other members of the profession , by making hostile, inflammatory, inaccurate and discriminatory written statements in court documents and in related correspondence, and on his firm's website."
Article content
Those allegations relate to incidents that began in the fall of 2020, a tribunal spokesperson confirmed.
That fall, lawyer Vincent Rocheleau posted LinkedIn messages encouraging women to take part in a University of Ottawa project about their experiences with the COVID-19 pandemic.
According to court rulings, Hamza replied on LinkedIn with messages about women's contributions to academia, including that "women didn't write their histories because they didn't care to do so" and "women just don't care about history or philosophy" because "women don't generally consider being a philosopher or historian 'sexy.' "
Hamza defended himself with comments about his critics, including that Rocheleau and another person "had been colonizing and genocidating the country," and that white women had been "raising murderers of Indians and blacks they now pretend to support against 'villains' like" him , according to court documents.
Article content
Rocheleau filed a complaint with the Law Society of Ontario, alleging Hamza's comments were racist and sexist.
Another Hamza post led to another complaint to the law society. The post showed a photo of law student Ismail Aderonmu, his wife and children, with speech and thought bubbles making derogatory comments about each, according to a court decision.
Aderonmu's complaint alleged posting such content is "conduct unbecoming of a lawyer."
In response to the complaints, Hamza launched legal action against the law society and the complainants, seeking from the court financial damages and several orders, including that he not be required to refer to any judge in the future as "your honor" or "justice " and that he no longer pays taxes to "a European colonizer, but to a 'red Indian' representative in government."
Article content
In April 2021, Superior Court Justice Thomas Heeney threw out the matter on a technicality, and called Hamza's arguments "incomprehensible legal gibberish."
Hamza then sued, in French, the same people plus Heeney. Superior Court Justice Robin Tremblay threw out that action as "frivolous, vexatious and an abuse of the court" in a decision published Jan. 17, 2022.
Hamza also took his case to the Ontario Court of Appeal. It upheld Heeney's decision, dismissed the appeal and found Hamza's legal arguments "continue to make racist and misogynistic statements and include personal attacks."