Celebrity home makeover stars Clea Shearer, 40, and Joanna Teplin, 43, are revealing how Clea's breast cancer treatment is going, as they tape their hit Netflix show
.
One of the more recent episodes involved making a work-space dog friendly.
Both ladies say they "understand the benefit of having your dog around all the time."
Teplin, in an interview with Hollywood Life said, "it makes us happy. It makes us more productive. It creates a better work environment. It's a joy!"
Shearer added that having her dogs Indie and Emmett around as she went through chemotherapy treatment for breast cancer has given her "so much comfort."
Their Netflix show Home Edit helps celebrities and everyday clients edit, categorize and contain their clutter.
Shearer is an expert organizer on the show, but behind the scenes she's been battling cancer, revealing she had a double mastectomy and underwent treatment after finding a lump in her breast in late February.
"I have breast cancer," she announced in a lengthy social media post. "It's a hard thing to say, but it's easier than keeping it to myself."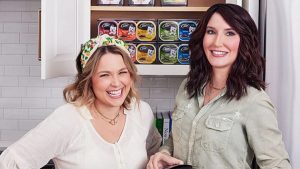 She went on to write, "I found a lump myself the last week of February. I had been trying to make an appointment… for several months, and even when I told them I found a lump, they couldn't accommodate me. I had to request a mammogram from my general doctor, which led to an ultrasound, and then an emergency triple biopsy."
Speaking to Hollywood Life, Shearer said, "I'm doing pretty well, I'm handling chemo pretty well."
The Importance of Mammograms and Cancer Screenings
Screening for breast cancer is very important, especially if you have a history of the disease in your family. When it comes to breast cancer, a mammogram is the most common screening method. Many experts say that women should start their mammograms at age 40, although it has recently been argued that it should be more like 35.
For women with an elevated risk of breast cancer, for example, if they have the BRCA1 or BRCA2 gene mutation—they should start screening even earlier. BRCA1 and BRCA2 can increase the risk of female breast and ovarian cancers.
While getting a mammogram, also make sure to ask about dense breasts, which can obscure cancer and will most likely prompt your care team to be extra careful about reviewing your results, which is a good thing.
Breast cancer is very common, so if you have really been diagnosed, don't panic. Millions of women out there have beaten the disease, and many with an advanced stage of the disease are living longer and much fuller lives.
Metastatic Breast Cancer
Metastatic breast cancer – also called "stage four" breast cancer – means that the cancer has spread, or metastasized, beyond the breasts to other parts of the body. It most commonly spreads to the bones, liver and lungs, but it may also spread to the brain or other organs.
And while there is technically no cure for metastatic breast cancer, there is a wide variety of treatment options used to fight the disease including hormone therapy, chemotherapy, targeted drugs, immunotherapy and a combination of various treatments.
Treatment options for advanced breast cancer
In a previous interview with SurvivorNet, Dr. Elizabeth Comen, a medical oncologist at Memorial Sloan Kettering Cancer Center, explained how she tries to manage breast cancer when it has progressed to a later stage.
"With advanced disease, the goal of treatment is to keep you as stable as possible, slow the tumor growth and improve your quality of life," she said.
Shearer's diagnosis was scary at first, as she detailed on social media.
"I have two tumors, one centimeter each, that are aggressive and fast moving," she wrote. But I caught it early. Had I not taken this upon myself, I would be in a completely different situation right now."
Work has helped, including the duo's recent project – making a work-space more dog friendly.
"It's honestly made it easier to do things, like being at the office, being here and having our dogs, it just makes it such a happier experience" Shearer told Hollywood Life.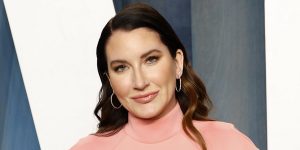 "I said to my husband the other day, 'No one is ever going to love me like our dogs,' and he was like, 'I love you.' And I was like, 'You don't follow me from room to room!'"
Both Shearer and Teplin are at ease sharing their tips for making your workspace canine-compatible, no matter if you're at home or at the office.
"Having a pet friendly-zone where you can have all the toys in one area, and even all of your pet items in one zone in your pantry, is a great way to organize," said Teplin, a dog-mom to a mini bernadoodle named Mabel.
She added, "create that zone specifically for supplies, for toys, have an area to hang up the leash so that it's not in piles on the ground, have a cleanup caddy in case accidents happen."
In a recent survey by CESAR brand, 58% of people agreed that their dogs make the best co-workers, so with the help of Shearer and Tepin, they launched the CESAR Hire My Dog program, aimed to help pet parents advocate for pet- friendly workplaces.
Shearer's advice: "Set yourself up for success. Whether you are in your workplace or in a work from home place, you can't let your pets overrun the environment. The goal is to incorporate them into the environment and make it something that's enjoyable!"
To learn more about the CESAR brand's mission to create more pet-friendly workplaces, visit CESARHireMyDog.com.
Learn more about SurvivorNet's rigorous medical review process.
---