The federal and provincial cash means a family with an infant and three-year-old in group care could save up to an additional $11,940 a year.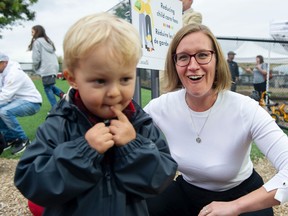 Article content
After years of cutting other costs to afford daycare for her three kids, Burnaby mom Tania Cubells is among the tens of thousands of BC parents expected to save hundreds per month on child care fees starting December.
Article content
Provincial and federal ministers on Friday unveiled details of new subsidies that will apply to 96,000 children across BC Affordable childcare advocates say the move puts the government's promise of $10-a-day affordable childcare on the horizon.
Article content
Cubells, 38, expects to save $445 a month, cutting almost in half the fees she pays for her three-year-old daughter Alexa to attend Cascade Heights YMCA Child Care in Burnaby, which is where the announcement was made.
"This is amazing," said Cubells, a small-business owner whose two older kids are in school. "With inflation, high prices on gas and everything, my family is struggling right now to reduce our expenses as much as we can."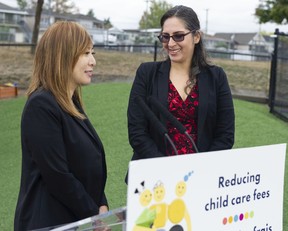 Friday's long-awaited announcement is the result of Prime Minister Justin Trudeau's 2021 budget promise of $30 billion over five years to nationalize child care and make all spaces $10-a-day by 2026.
Article content
Sharon Gregson, spokesperson for the $10 a Day Child Care Campaign, said she's thrilled to see the federal and provincial governments keep their promise on expanding affordable child care.
"This is enough to make a real difference for a family's budget," she said. "This really is a step toward $10-a-day being the maximum fee that families will pay, and now I think families can see that on the horizon."
BC was one of the first provinces to make a deal on child care with Ottawa in July 2021, with a commitment of $3.2 billion over five years.
The amount parents can expect to save varies based on age and type of child care. The maximum is $550 a month in savings for the care of an infant/toddler under three years old at licensed group daycares; $445 a month for children between three and five years old; and $220 a month for after school care for children in kindergarten.
Article content
Parents in home daycares will save $400 a month for infant/toddler care, $440 a month for children three to five and $260 a month for after school care for children in kindergarten.
The government said this will bring down the average daycare fees to $21 a day, from an average of $53 a day before government subsidies.
"For the parents who have been struggling with child care, we feel you," said Katrina Chen, BC's minister of state for child care during the press conference in Burnaby. "We understand that child care is critical for our economy, for our young children and for families' well-being."
Some parents win the 'lottery' with $10-a-day child care, those left behind feel like it's a game of roulette

Housing, overdose, COVID crises create dire needs for vulnerable people: Vancouver agency
The savings, which take effect Dec. 1., will be on top of the province's fee reduction initiative which cuts fees for group daycares by $350 a month for infant/toddler care and $100 a month for children three to five.
Article content
Parents do not have to apply for the funding, which is not income-tested. It will be automatically applied to daycares enrolled in the fee reduction program. The province says 96 per cent of child care spaces are eligible to receive the fee reduction.
The savings can also be combined with the province's affordable child care benefit — received by families making less than $111,000 a year — which means lower income parents will pay nothing for daycare.
The province will require child care providers who sign up for the fee reduction to agree to a three per cent cap on price increases, to ensure centers don't raise fees to offset savings for parents.
BC Liberal child care critic Karin Kirkpatrick said that the fee cap could put pressure on child care operators who are facing rising costs including rent, utilities and wages.
Article content
Kirkpatrick wants more done to help child care providers increase their wages as many sit empty or undercapacity because they can't find staff. Currently the province bumps up the wages of early childhood educators by $4 an hour.
The program still leaves a gap, Kirkpatrick said, between those receiving $10-a-day daycare — currently 6,500 spaces but set to jump to 12,600 by the end of the year — and everyone else who will now be paying on average $21 a day. Some parents have complained that the program, which is not based on income, benefits some while leaving others behind.
More news, fewer ads: Our in-depth journalism is possible thanks to the support of our subscribers. For just $3.50 per week, you can get unlimited, ad-lite access to The Vancouver Sun, The Province, National Post and 13 other Canadian news sites. Support us by subscribing today: The Vancouver Sun | The Province.