Video footage has captured the dramatic arrest of a passenger at a crash scene after a tow truck became trapped under a Brisbane rail bridge.
The video shows police arresting the 37-year-old, who had been a passenger in the wedged vehicle, holding him in a headlock as they urge him to cooperate,
In the video, officers are heard telling the man "stop resisting – you're under arrest, for obstructing police," with the crushed truck in the background.
"Get your arms behind your back – close your arms d—head."
"Alright calm down – you're under arrest for obstructing police. You calm down and we will sit you up. Do you understand?"
The 37-year-old is accused of shoving an officer and refusing to move away from the crash scene when ordered by the police.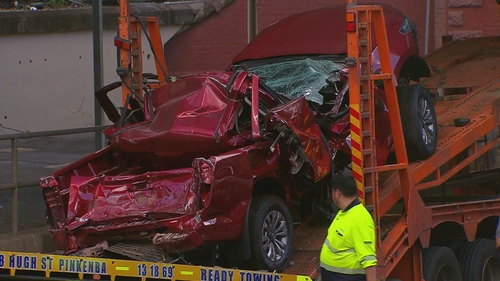 It takes officers several minutes to calm him down.
Police confirmed the passenger is now cooperating, but he has been charged with assaulting and obstructing the police.
The tow-truck caused traffic chaos this afternoon as it remained stuck under the bypass on Countess street, a major intersection in Brisbane's CBD, for over two hours.
Several lanes of traffic were blocked with significant delays to drivers.
The truck driver told 9News he was shaken by the incident, adding the crash occurred after he took a wrong turn while following his GPS.
"It's okay, it's okay, it's okay," they got
"I'm truck driving – I'm 35 years in truck driving – I don't know."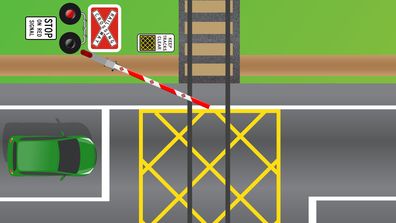 How long do you have to wait before entering a rail crossing?
Emergency services attended the scene and worked to remove the vehicle as well as the now-crushed cars it had been towing.
Drivers were urged to avoid the area and instead use Hale Street as a traffic ground to a halt this afternoon.